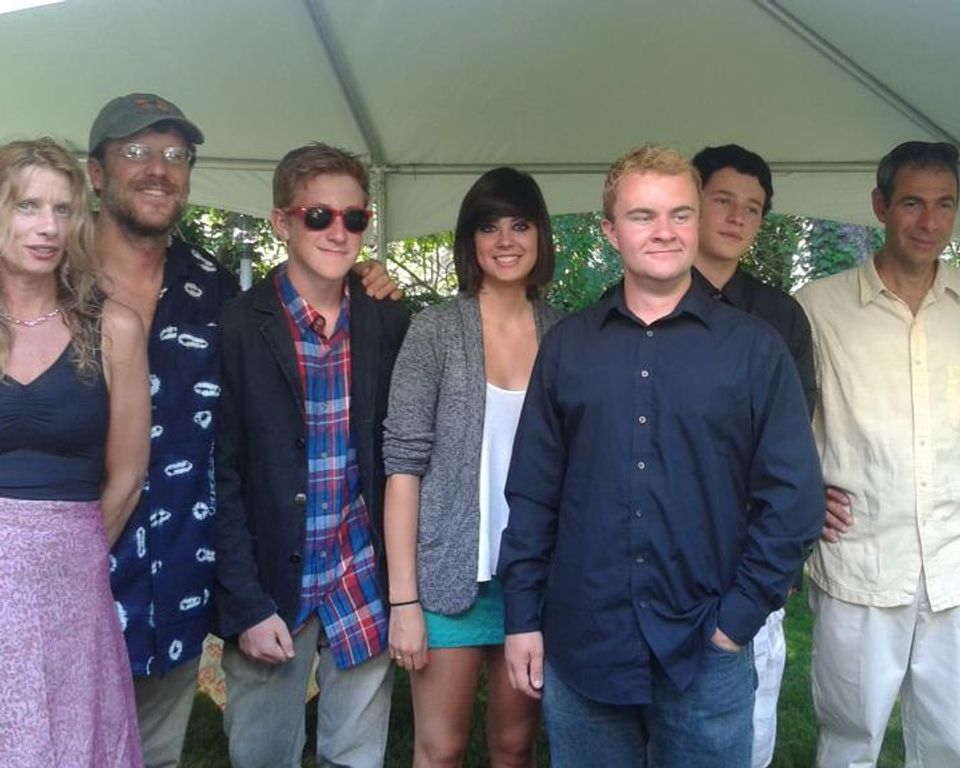 First Touring Ensemble
Martha's Vinyard, MA in 2012  (left to right) Karyna Swing, Peter Swing, Raven Swing, Anna Hake, Ansel Carpenter, Harlin Pierce, Brian Crane (not in pic, Ethan Walsh)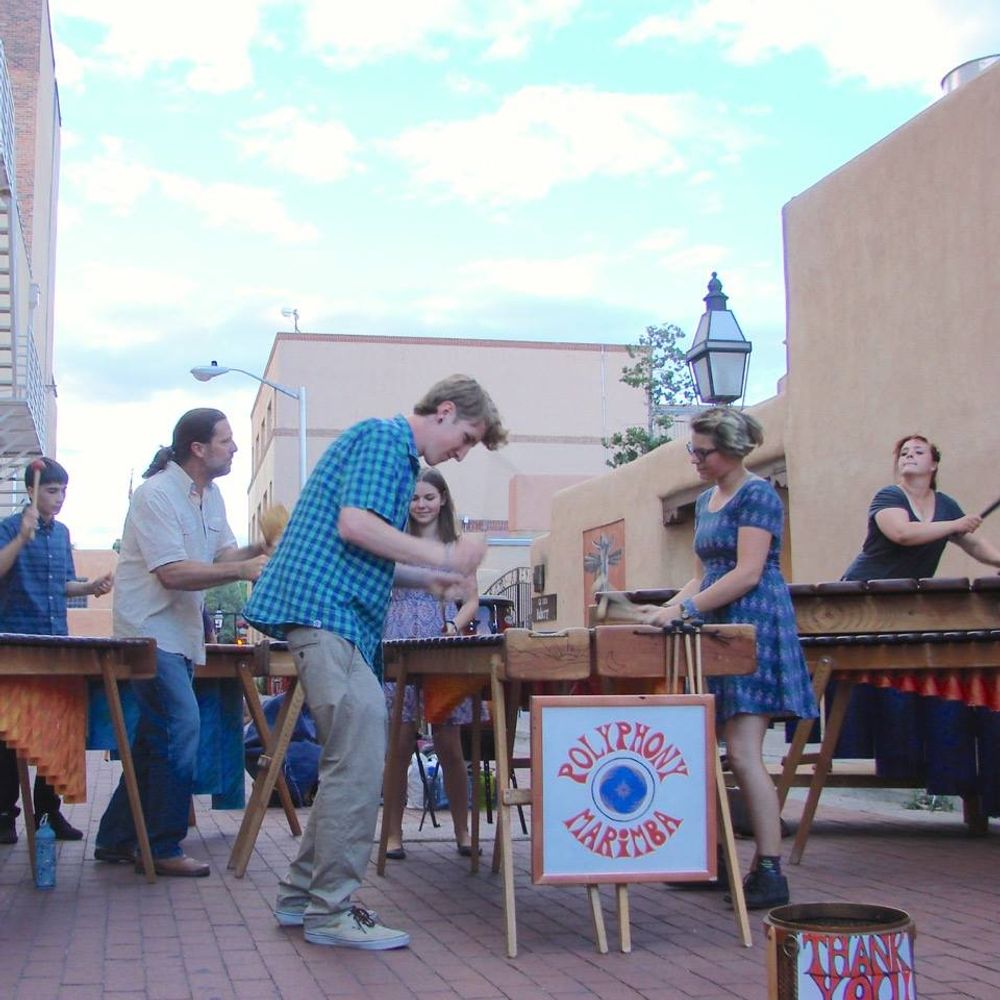 "You are pioneers!" -Dumi Maraire
Polyphony Marimba was founded in 2010 and has grown steadily with six national tours, three albums, and an ever-expanding fan base.  Our mission is to create and sustain an acoustic ensemble of nine players who want to make a life out of the roots music of southern Africa, while contributing our own creative expression to that tradition.
Founder Peter Swing has taught the music of Zimbabwe for 30 years and has led several previous ensembles, while keeping an active shop building Zimbabwean style marimbas which are sold coast to coast. He and several other bandmates have made repeated visits to Zimbabwe as well as South Africa and Botswana, to study with the masters and soak up the deep ancestry that permeates the land and people there. Polyphony Marimba is the culmination and fulfillment of that experience.
Peter & Karyna Swing, together with Peter's son Raven, formed this acoustic ensemble in Santa Fe, New Mexico in the spirit of the original format which Peter received from Dumi Maraire in the late 1980's. We play seven marimbas: three sopranos, two tenors, a baritone and a huge bass, with hosho (gourd shakers) and hand drums keeping the beat. About half our repertoire is instrumental and then we love to sing in rich vocal harmonies with spiritual and folk themes, often in the characteristic call-and-response African fashion.
Swing learned that the more the players put their lives into it, and the larger the audience is that appreciates it, the more the music grows in power and artistry. Expanding the cathartic and joyful energy inherent in this music is what Polyphony Marimba is all about. Polyphony (rhymes with 'epiphany') has played over 300 concerts around North America and we have sold over 5,000 CDs; these days we also enjoy regular play on streaming services such as spotify and amazon.
Niagara Falls, New York (left to right: Maren Padovan-Hickman, Raven Swing, Jesse Larson, Tara Padovan-Hickman, Keenan McDonald, Karyna Swing, Peter Swing; below, Jesse Garcia, DeLaura Padovan)
Over the last ten years, completely self-operated, Polyphony Marimba has established a steady circuit of gigs, particularly in the eastern United States. Originally more than half of our gigs were busking on the street. Play this music near any populated area, as we have done in Washington DC, New York City, Chicago, Boston and Asheville, North Carolina, and a crowd instantly gathers, gratefully applauding and purchasing our recordings to take the music home with them. Our sound is big, organic, beautiful and powerful, with an intriguing familiarity that attracts listeners like a magnet: so many times we have started playing in an empty square or park and within a couple songs we are surrounded by smiling curious people.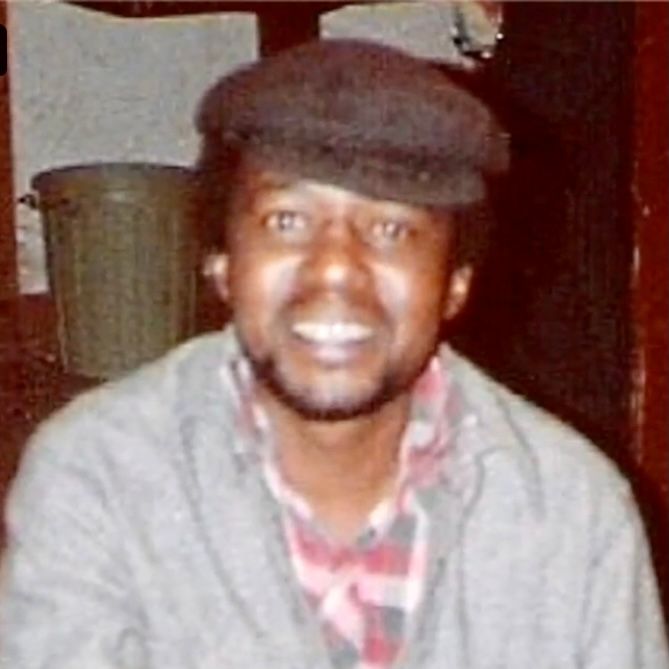 Roots in Zimbabwe
(Left, Dumisani Maraire, PhD, the father of Zimbabwe-style marimba ensembles in North America)
Polyphony Marimba is the end result of a great deal of experience in this music by the Swings and all the musicians who play in the band, who are some of the top marimba players in the USA. Just like people who mature slow and sure, Polyphony had a 25 year gestation period, emerging from the marimba scene in the Pacific Northwest.
And that scene has its origins in Zimbabwe during the 1960's. At that time many African countries were emerging from the yoke of European colonialism. It wasn't until 1980 that Zimbabwe finally achieved its independence from Britain. But in the meantime it was grappling with the problem of nation building: how do you create a united country that has three quite distinct peoples, Shona, Ndebele and English? One way was through culture, and at the Kwanongoma College of Music in Bulawayo the idea was to invent an ensemble that could convey the music of all these vastly different people, with no tribal claim by any of them.
Thus the marimba ensemble, in the form Polyphony Marimba inherited, was invented. Zimbabwe's neighbor Mozambique has a very old tradition of large xylophone groups, and neighboring Zambia also has traditional marimba groups going back countless generations. Borrowing also from the orchestral structure of western music, and the choral forms of South Africa and Europe, the Zimbabwean-style marimba ensemble was born. 
How did it get to the United States? In 1968 a brilliant student of Kwanongoma College of Music, Dumisani Maraire, was invited to teach as a guest lecturer in the Ethnomusicology Department of the University of Washington in Seattle. A two year contract extended into a residency for the next twenty five years, for the students and people of the Northwest fell in love with Dumi (as he is known) and the music he embodied from Zimbabwe. 
2018 TOUR
Ashland, Oregon (left to right, Peter Swing, David Onstott, Jesse Larson, Adam Halpin)
One of the bands Dumi fostered, through a series of intensive workshops, is Boka Marimba of Portland, Oregon. Another very notable teacher of that group and many others around the US, was Ephat Mujuru, a legendary mbira player who taught in a more traditional manner, simply sharing the powerful songs of his ancestors. Beginning in 1987, Boka Marimba was the incubator for Swing to learn the songs --and understand the structure-- of Zimbabwean music as played in a marimba ensemble. At that time there were only a few marimba bands scattered up and down the West Coast; but the music is so infectious and fun to play, that there are now marimba bands sprouting up around the whole country and indeed around the world.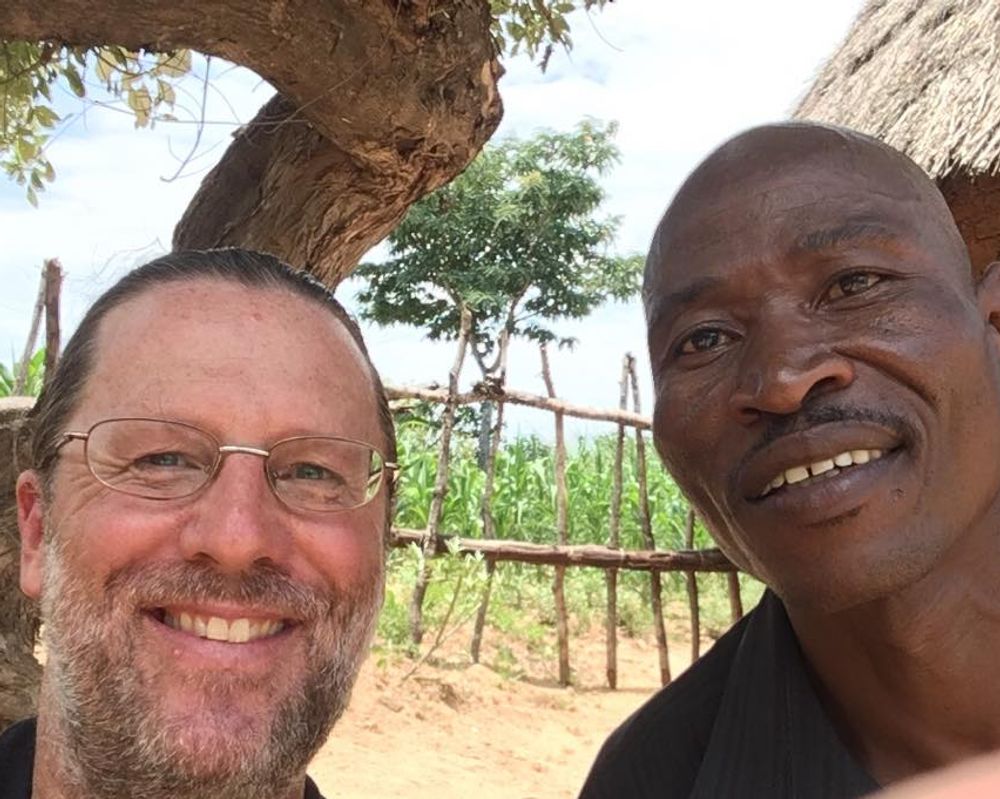 Zimbabwe 2018
Peter Swing and Barnabas Ngalande in Denzva, Zimbabwe
Our fourth studio album is due to be released this December, 2020, and we are excited to have special guest vocalists recorded in Zimbabwe on this one! Barnabas sings lead on traditional songs "Vamudhara" and "Noah", accompanied by talented young singer Tadiwa Mubaiwa, along with several of us blending in response vocals. A first for Polyphony Marimba, we fully intend to keep this collaboration going on  future recordings as well.